CostPocket offers integrations with many different ERPs (you can read about how to integrate them here- https://costpocket.com/en/how ) and it is extremely easy to just snap a picture of your receipts, let CostPocket digitize it and send it directly into accounting software. Now, the question is - how can you use the app and make expense reports without having an ERP integrated?
All the accountants, project managers, and other expense reporters who are not using any accounting software or whose software does not have an integration with CostPocket yet - read the tutorial of how to take photos of your receipts and get expense reports into your mailbox within seconds!
When you start using the app it will ask the software you are using to do your accounting. At the end of the long list, you will find the option "Excel, PDF" - if you select that one then you can start using the app without integration to any software. Your expense reports will be delivered to your e-mail and you should forward the email to your accountant.
2. To make a new report you should find the button called "New report" from the right bottom corner. When you select is, you will be asked whether you want to make an expense report or travel report. Select the suitable option (both will send a report on your email) and give it a name (usually something like June 2019 or Barcelona Business trip). You can add as many reports as you need, the app will show you the latest report by default, to see the older reports as well you need to click on the button "Show more reports"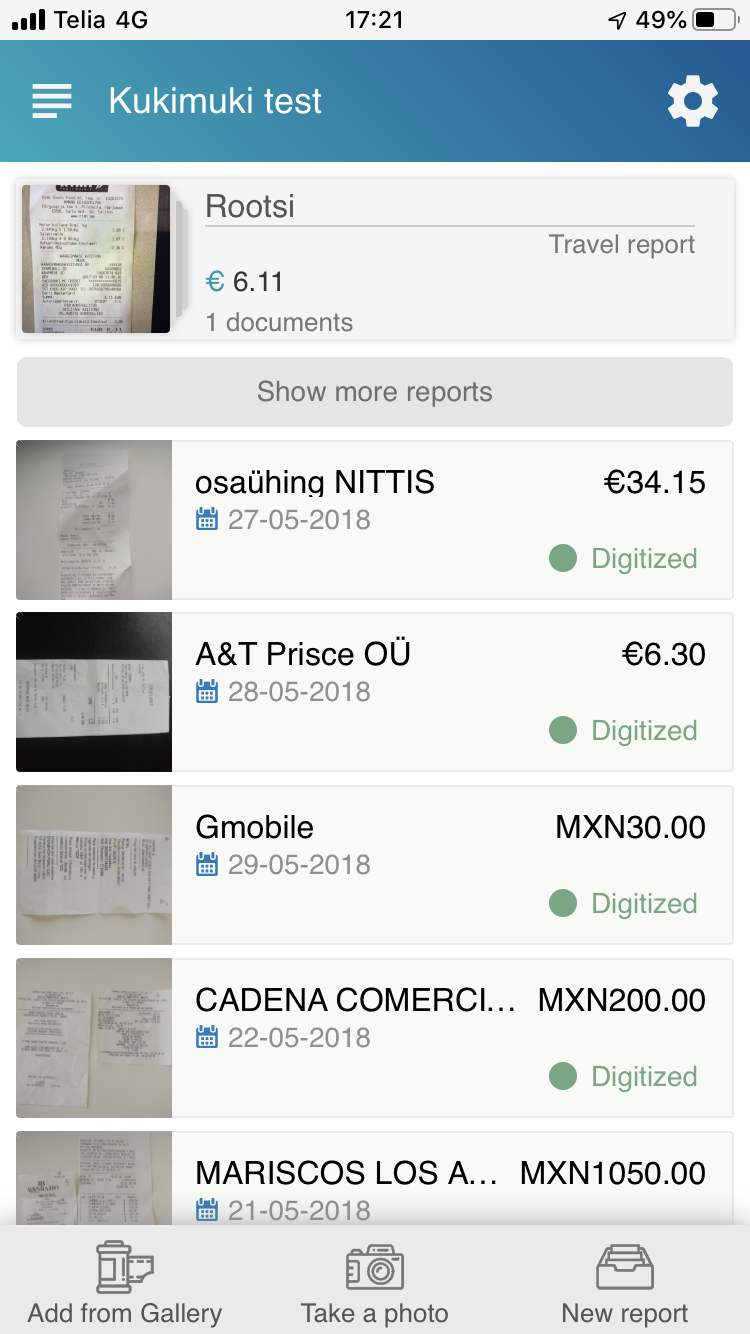 3. Add documents to your report. You have two options to add expense documents to the report: make a photo of the receipt (or upload existing photo) with the app or send an invoice via email (each user has its @costpocket.com email address which you can find under the settings of the app). After uploading the image or sending the email you just have to let the OCR (Optical Character Recognition) do its magic to find all the necessary data from the document within a few seconds. After that, you can add another document.
4. Once all the necessary documents have been added, tap on the button "Report ready". This will prompt CostPocket to send the report to your email. You will get two files - PDF and CSV files, and you will have an overview of the expenses and pictures of receipts attached to it.
If you need to add more documents to the report or delete some documents from it, you can update the report in the app and send a newer version to your email.
Easy, right! Honestly, we think it is the easiest and fastest way in the world to make and expense report!