A few years ago, our CEO Martin interviewed some CEO's about the need for a receipt digitizing app in order to find out how companies collect receipts. He remembers how someone joked that does he know what CEO's do during Christmas? The answer: Looking for lost receipts.
A couple of years passed, and the idea of ​​a receipt digitizing app had become a real startup. It was Christmas 2019 and ironically, Martin was looking for Costpocket OÜ's lost receipts.
Since then, CostPocket has changed internal processes, so that we now look for missing documents at the beginning of each new month. Martin can only recommend such work organization.
CostPocket has about 40-60 different expenses every month and some of them are quite complicated - for example, Facebook usually makes an invoice whenever they like. Usually though, when a limit is full. This can lead to confusing expenses every month.
In any case, with such bills, it is good to spend ten minutes every month, so as not to spend several hours on Christmas.
This blog post focuses primarily on digital expense documents that are automatically emailed by service providers or, in some more difficult cases, must be searched in different applications.
Forwarding documents by e-mail
It is easier to forward documents digitally by e-mail. Each organization registered in CostPocket has its own @costpocket.com email address, which can be seen in the app: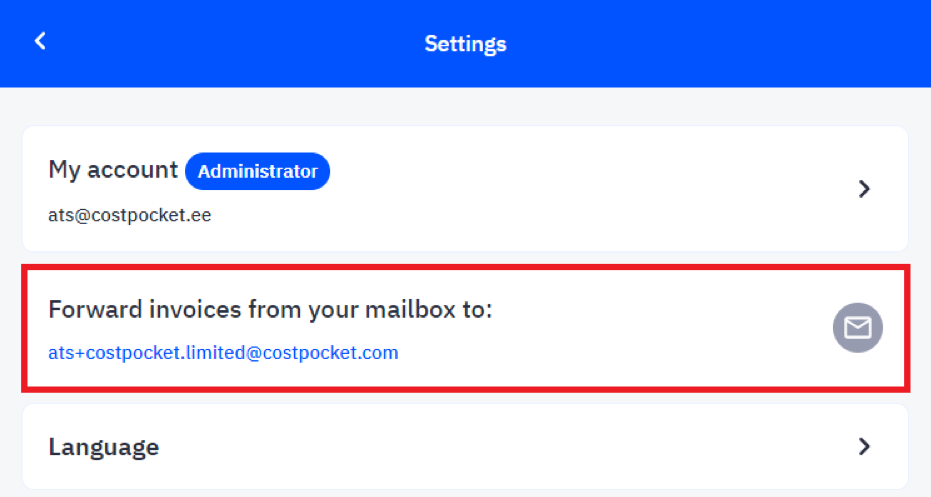 Different invoices tend to come to different mailboxes. The username in front of the address (ats[email protected]) is useful for CostPocket to know with which user this expense should be associated. This is especially useful if you have marked your IBAN in your CostPocket account.
If the supplier sends a normal invoice by e-mail, it's easy. Forward the email to the right address and CostPocket digitizes, stores, and forwards it to the accounting software.
Receipt, payment, and invoice
It is recommended to forward the incoming documents immediately. But sometimes everyone forgets, and then it can be harder to find the right invoice in your mailbox - for example, if your service provider sends a lot of other notifications by e-mail in addition to the invoice. Usually, the keywords "receipt," "payment," and "invoice" can help you find the right document.
E-mail subject
Try to write something short and useful on the subject of the e-mail, because the subject reaches the accountant as a comment. As a funny example, Martin used the subject "code hosting" for a long time, until he realized that it probably didn't say much to the accountant.
Each accountant solves this differently, but the main problem for the accountant is to understand under which department does the expense goes (whether marketing, technology, etc.).
Attachement & letter content
A separate expense document will be made in CostPocket for each attachment in the email and there can be up to 100 attachments in one email.
If the e-mail has no attachments, a PDF of the entire email content is made. This is because parts (often, for example, hotel and travel services) do not include a PDF. The letter itself is a so-called expense document.
In the past, accountants printed out such emails, but now with CostPocket, it is possible to automatically make a PDF from an e-mail by simply forwarding the letter to the correct Costpocket address.
If there is no attachment in the e-mail but there is a lot of advertising in addition to the cost statement information, it can be useful to delete the advertising part. Otherwise, it will be kept in the accounts for seven years (after the end of the submission year).
Minimum information on the expense document
The electronic expense document should, as a minimum, show:
sum
payment date,
supplier's name,
currency,
invoice number
and for what the invoice was issued.
It would also be good to know the method of payment and the supplier's reg or VAT code if they exist. Estonian bills are not valid if the information is not available, but explain that to a Turkmen or US service provider.
If you are liable for VAT, you will recognize a good invoice by the fact that VAT is shown on each line of the invoice. Many electronic service providers are located all over the world, but always state the VAT number when ordering the service. Many US companies also have offices in the European Union (such as Google Ireland Ltd, Facebook Ireland Ltd, etc.).
If the buyer's VAT number is indicated on the invoice, VAT will not be added to the invoice in the European Union.
If some information in this letter is missing, you should search for the button "View invoice", "Download as PDF", etc. or go to the service provider's online environment to search for the invoice.
Searching for invoices in online environments
Sometimes, however, it's necessary to go to the online environment to get the right invoice. It usually helps to search for Billing under Settings.
For example, on Facebook: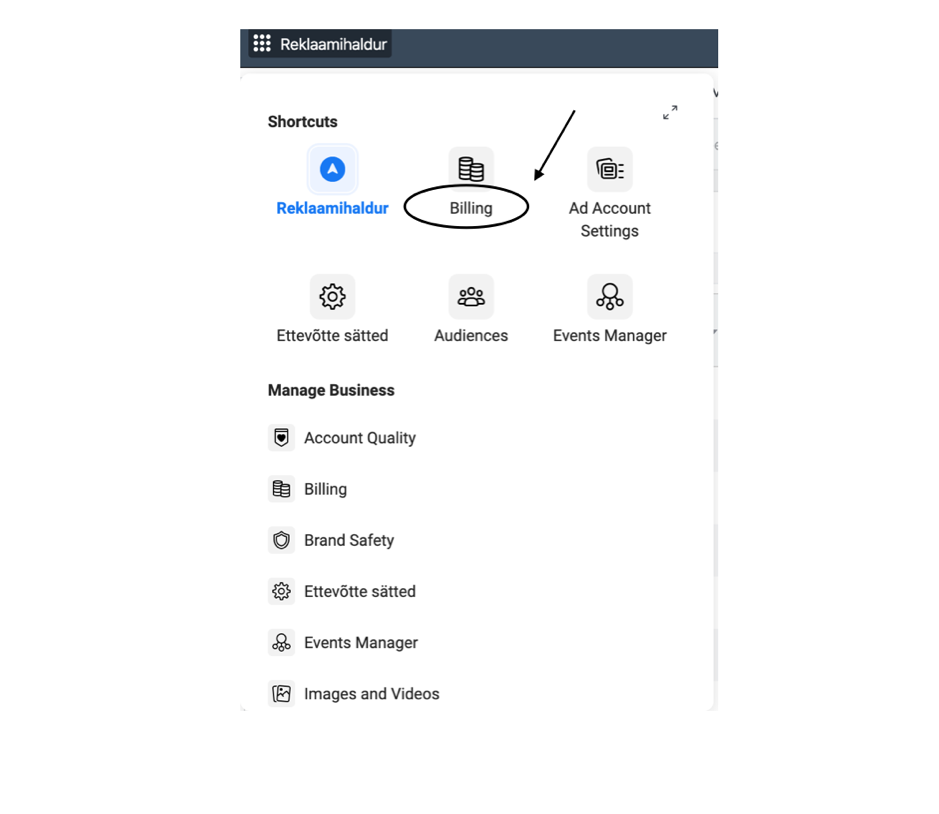 Because Google Ads charges money for its services (rather than billing when the limit is reached or at the end of the month), it can often happen that you receive multiple invoices in a month. In this case, the easiest way is not to search for individual invoices, but to download a summary for the whole month (with VAT information).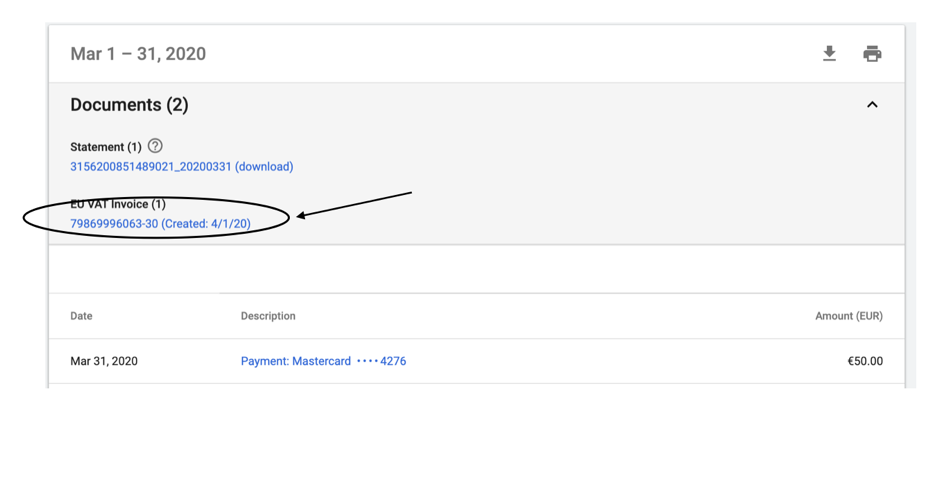 In conclusion
Martin remembers how he once tried to explain CostPocket's business idea to his uncle Peter. Uncle Peter had been the director of a large farm in the past and he had rather peaceful years or retirement. Martin then explained to him how people look for receipts, and he said, "What? I can't say anything else besides what you are doing out there is a total mess!".
It is true that things have progressed since the time of owning the farm, and indeed, today it is really possible to look for some documents for quite some time. Some organizations are large, some employees have huge amounts of documents, some only return home once every six months, and some simply forget. Fortunately, in today's digital age, it is possible to keep things in order so that a document, on the other hand, reaches the globe in seconds.