We caught up with one of our first clients, Manivald Sternhof, to discuss the developments in accounting. Manivald is an industry veteran with 20+ years of experience and has previously served on the Board of Estonian Accountants Association.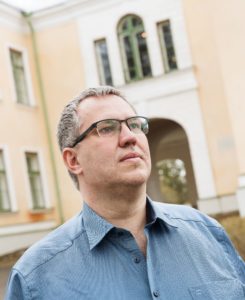 MANIVALD STERNHOF, PHOTO: MEELI KÜTTIM
Hi, Manivald, what was the early technology for accounting that you used?
Oh, I remember it well. I bought the first computer for accounting from Virumaa Maapank bankruptcy assets. It was running on Windows 3.1 operating system, and I had a massive EPSON matrix printer.
In my memory, accounting software prices were astronomic, starting from 20 000 Estonian kroons for a license. The software was coming in several floppy disks, as it was the standard back in the day. Of course, I didn't have that kind of money and used Excel instead. It was already well automated and produced a turnover ledger, a profit and loss account, and a balance sheet from the general ledger.
Then I got Standard Books software and my working hours were halved. As soon as Merit Aktiva launched its web-based accounting service, I jumped into it. My working hours halved again as all the automations made me more efficient. And then, of course, CostPocket came on stage.
What did CostPocket bring for you and your business?
99% of my clients use CostPocket and the value of your software is easily illustrated by the pace at which receipts reach accounting. Previously, our accountants spent a few days around the 18-20th of every month sorting a tsunami of documents, before entering data manually into the system. Now we organize this work flexibly as CostPocket gives us a steady flow of receipts during the whole month.
This enables us to start asking for missing receipts as soon as the accounts have been reconciled by the 5th of each month. As receipts are digital and travel over the cloud, we can arrange it all fast from any location.
To sum it all up, what were the highlights of the changes in accounting through your career?
I think of the few big changes:
No more waiting for clients with piles of documents at the beginning of the month. Now the invoices arrive electronically and on a rolling basis throughout the month.

Significantly less manual data entry

No more printing of paper documents. Electronic archives are used instead.

The Internet has made it much more efficient for accountants to receive, process, and share data.
But most importantly, due to all of the developments, now I have the time for myself and my family. I didn't have it in the beginning.
With automation disrupting all industries, could one day the whole accounting process get automated?
That would not be a big deal. The accountants will not disappear, but the nature of the profession is already shifting from data entry to data maintenance and analysis.
With the rapid development of e-receipts in recent years, would you predict a decline in paper receipts?
I cannot imagine the disappearance of paper receipts. A decline might happen, but the physical documents will remain. I doubt that paper receipts will be abolished in other countries, for example, Russia, anytime soon.
Coming back to accounting procedures, are there still companies gluing the receipts on paper, scanning them, and then printing them out again?
Of course, there are. Just last year I had a new client who had been keeping the books on paper since 1997.
It is a long way till all the offices catch up with the innovations in accounting.
Do you have any suggestions for us moving forward?
Listen to your clients and develop the service according to them.
Thank you for the conversation and for spreading the paperless accounting idea with CostPocket in Estonia!