Photo: Madis Katz
Text: Martin Sookael
In 2015 in New York I went to an Ewert and the Two Dragons concert. The most incredible thing I remember is how well the band played together. I ask Ewert about it and he laughs: "Well by that time we had really practiced a lot."
I will continue this story in first person as Ewert told it.
We do play well together. Not all days are brothers, but on the stage we can always get ourselves together, never giving any discounts, so to say.
Tours
Tours have almost always similar routine as a ritual. Usually you start to drive early on, sometimes right after packing the last concert, sometimes in the mornings. You spend the day in the bus, get to the venue, bring in your gear. Get a little lunch or fast dinner, go to a walk, sit backstage, read a book. We don't really have a collective procedure, just a free flow.
Everyone can do what they want. If you are on tour in US for a month, then this is the only pause you get from the travelling. Most extreme period was one month in US followed by one month in Europe on top of that. When you've been on a tour for so long, you'll have run out of chit-chat and you start seeking more peace and quiet. Fusballtable, card games, Uno, definitely, we do try to figure out ways to spend the time.
Once we were on a tour in Germany. Everything was just in the correct rhythm - concert, packing, tour bus, night in the bus and we arrived Berlin in the morning. And we all wake up to loud banging and screeching. The bus is travelling in reverse, scratching one car after another. The bus driver shouts "Reverse gear is on and the breaks are not working!". Finally, only another physical object could stop us - it turned out to be these two cars: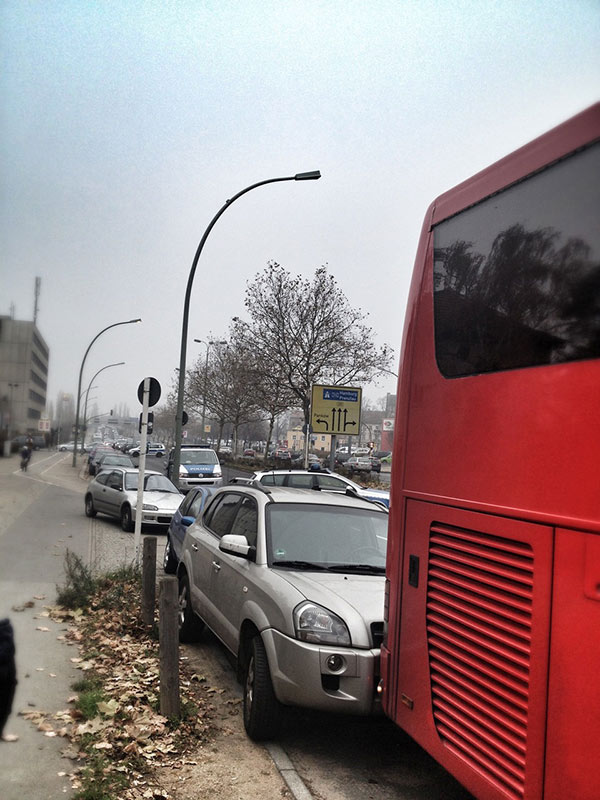 Photo: Ewert
Fortunately we were in suburbs, not in the center, this commotion organised a proper chaos over there. But we had to go to soundcheck already and when it was time to continue the journey in the evening, another bus was waiting for us. Looking back, it's funny, but we got quite a scare in the beginning. Nobody got hurt, only the cars suffered, a lot of excitement in the morning.
Recording
First album "The Hills Behind the Hills" was quite an spontaneous recording. We just had this idea. We had jammed a few times with Erki, just playing at home, making plans but we really didn't have any songs that were ready before we got into recording. Then we just gathered at the country house for days, took what we had and created songs out of them.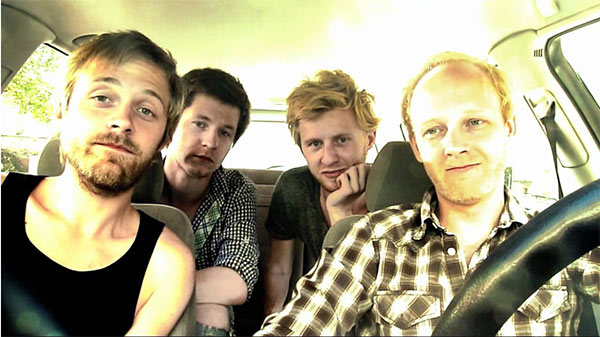 Erki Pärnoja (guitar), Kristjan Kallas (trums), Ewert Sundja (vocal), Ivo Etti (base) in the year 2011. Screenshot from this video.
With the second album "Good Man Down" we started to write these songs between concerts and this time we also planned on making this album. We made a one week recording session, in the basement of Türi Culture Center. We got away from everything, turned ourselves emotionally off from daily routines and were just hyper focused on this one thing. It was just like working and living together, getting into sync, sharing the creative atmosphere, the vibe and trying our best to record it during the session.
One of our strong suites is performing live, but to catch it to a recording is a challenge on its own. But if we catch it like it sounds on concerts, then it has always worked great for us. The third album, "Circles", we recorded in the US on the same principle. This time we spent a month in the studio. So in the evenings you figure out what song you'll be doing tomorrow and then in the mornings you start doing it. Play for a whole day, replay it and then play it a bit differently, then try again, then do something else and then go and then try to decide if it's good enough.
We did the last album "Hands Around the Moon" differently. Me and Sander started to work on demos. Several songs we got to a pretty completed level this way and then made little studio tours and got together with the boys, if we needed to record an instrument to add.
Our families have grown over time, so we had to approach time and space differently. One has to find a method that works. If you can't do it in one way, just try a different one: the album will be recorded regardlessly. You also have to have a creative approach to recording planning.
Tour photo from 2018 for "Hands Around the Moon"
The band
The band found its sound by trial and error. Kristjan, Ivo and Erki had been playing a long time together with Estonian singer Ines and at one point I was living together with some of the guys. There were a lot of things that matched between us and I guess this closeness also transferred into the music.
The four of us made a CD as a present to Erkis uncle. Then we thought that if we can write music for other artists, perhaps we can also make it for ourselves.
Eventually it's a matter of luck and coincidences. Perhaps the time, space and us fitting well together, everything was in our favour. Playing and creating music elevated us so much and it got transferred to music. I don't think there is another recipe to this. You'll never know what works, or how it will works. Some musicians are ingenious, but don't play well together.
It's always difficult to decide on a name for the band. With Dragons the first album was already recorded. To put it in perspective, it was time to send the CD to print, everything was ready, but the production was asking: "what are we going to write on the cover?". At this point in the process, all of our heads were empty, no one had any good ideas. Then my wife Kadri suggested the name "Ewert And The Two Dragons" and I passed it on as a joke to the guys. It ended up becoming the real name and we didn't really spend any more time on this. Now it's a bit late to change it.
Our third concert ever was in Tartu and we were there with our manager Toomas. Toomas wasn't our official manager yet, but he had already started to see potential in us. He had been talking with the Latvians for some time and was more aware about their scene. One Latvian radio and DJ producer was also there and we talked and made some initial deals and we got a feeling like "let's do it boys!".
Our fourth concert was in Riga, in a little club called I Love You Bar. Already the idea about going to Latvia to perform was such a boost. It gave us a lot of confidence and we already got this feeling like "we've made it". This is also what actually happened: one thing led to another, Latvians said that they have a record company and everything started to develop from there.
Back in the days I used to carry a little electric organ to performances. When we made it to Riga and got down the stairs with all our stuff then at first we figured that we were in the backstage. Where is the door to the stage? When we realised that this IS the stage, we figured that perhaps our hope had been bigger than the reality. But when the evening started and this little bar hit the crowd record with people singing along the lyrics behind the window, that was it! So it doesn't matter how big or small a place is.
If the emotion hit you right, you can play even for two people. This crowded little basement bar in Riga is still concert that I will remember till the end of my days. I'm pretty sure I've forgotten some bigger concerts, but this one I'll remember.
Musician and accounting
I got it bad with receipts. I like it that CostPocket is sending me reminders to look things over. Just yesterday I was clearing out my drawers, found some receipts and had to deal with them. In this context, this is super convenient.
Eventually you want some things to just work transparently in the background. You snap a photo with an app and you don't have to think about it any more. Data goes to the right place and reaches your accountant. The only task is just to take a picture.
I'm extraordinary bad at keeping account of such things, it's a total headache. The receipts and invoices are a hassle. Some are in one place, some in a wallet, some in a drawer, some in a pocket etc. On tours you'll have food receipts and gas receipts, then you'd come home and there's a whole catalogue of tickets and other invoices. What fun, to start figuring out, what cost came from where…
The way I can now just snap a photo and it creates a table, it has made the life of freelance musician much simpler. When you don't have to invest your efforts to sorting papers, then you can just do your own thing.